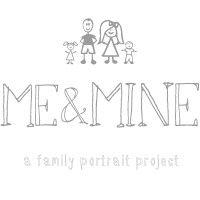 I was late to the Me and Mine party in January. And in February I failed to take and share a family portrait at all. But this month, we have progress: I have the pictures, and I'm on time!
As always, however, things did not go entirely to plan. I actually had a completely different set of shots in mind to share, but once again (this also happened in January) the memory card on which they are residing is not in my possession. And as is often the case with our family group shots, we have many of the same scene each one containing one or two good elements. But getting everyone looking at the camera with an appropriate facial expression in the one frame? It appears to be nigh on impossible for me and mine!
Here are some alternatives, all taken by my father-in-law:
(Ian is probably going to kill me for sharing this last one, if not some of the others!)
Despite my issues with actually getting family photos (or perhaps because of those issues) I'm still really liking the idea of participating in this project, and I'm loving the photos others are. I'm  determined that I will get better at capturing all of us together!