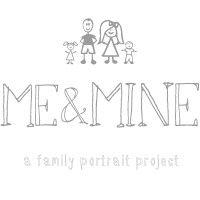 I came across the Me and Mine Family Photo Project, started at
dear beautiful,
last Thursday and enjoyed a blog hop around looking at all the images which had been shared.
I thought about maybe joining in, and started to look back through the hundreds of images I've captured during the first month of my 365 Project. After several long minutes I realised that I had to join in. Not because I'd discovered some beautiful family portraits including the three of us that I felt happy to share with the world. No. I had to join in precisely because I didn't find anything. Not a sausage.
Like the other participants, I've discovered that we're supremely rubbish at capturing shots of all of us together. And like other participants, that makes me sad. I want to be able to look back in years to come and not just see a sea of pictures of Thomas, but also see how we were as a family at different points in time.
Although I've already taken on a 365 Project this year, I think this could compliment it quite well. So this is my commitment to making sure that at least one picture each month is one of us as a family of three.
The shot I'm sharing here won't win any photographic awards. Thomas isn't even looking at the camera. But it's the single picture of the three of us together that I have from January. It was taken by my father-in-law last week whilst we were at Ian's sister's house for lunch. The only highchair in use by or youngest niece and Thomas clamouring for food, I decided to sit him on my lap to eat at the table. I'd forgotten to bring a bib, so he's wearing a borrowed one. It is actually quite representative of us as a family… muddling along through!
I'm late to the party because I needed to acquire the image from my father-in-law before I could share it. But next month… next month will be different!